Vanilla Bean Ice Cream
While I should really be studying for finals, I've decided to focus my efforts on more important things, like ice cream. Naturally.
There's nothing better than homemade Vanilla Bean Ice Cream. Even if you're not much of a vanilla person, like myself, vanilla bean is a different story. It's on a whole different level than plain old vanilla! I might even go as far as saying it's in my top 3 favorites of ice cream flavors... Yeah, it's that good!
As we all know, good things come to those who wait. And for this ice cream, it requires some waiting. You heat up the ingredients the night before, and refrigerate the liquid overnight to allow the flavors to develop more. Then you put them in your ice cream maker and it creates a soft-serve consistency. If you like your ice cream soft, you can dig in there. But if you're like me and like it more firm, you'll need to stick it in the freezer for about 2 hours before diving in. You'll want to delve in, but if you can muster up the will power, waiting will be so worth it.
Start by combining all your ingredients in a large saucepan over medium heat.
(Half and Half, Whipping Cream, Sugar, Preserves, vanilla bean and pulp)
Using a candy thermometer to watch the temperature, bring to 170 degrees. You can test the liquid using a spoon also. Dip the spoon in the liquid, and when you pull it out, the liquid will coat the back of the spoon and you draw a line through it with your finger. If the line stays clear and visible, and the edges do not run over it, it's done.
Remove from the heat and pour your mixture into a plastic container with a lid. Refrigerate overnight, or at least 8 hours.
Once the mixture has settled overnight and developed the flavors better, it's time to create ice cream. Using your ice cream maker, and following it's instructions, pour the liquid in and run it until it becomes thick like soft-serve. It will only get so thick, so once it's ready, place it in a freezer safe container and freeze for at least 2 hours. Then you're ice cream is ready to enjoy!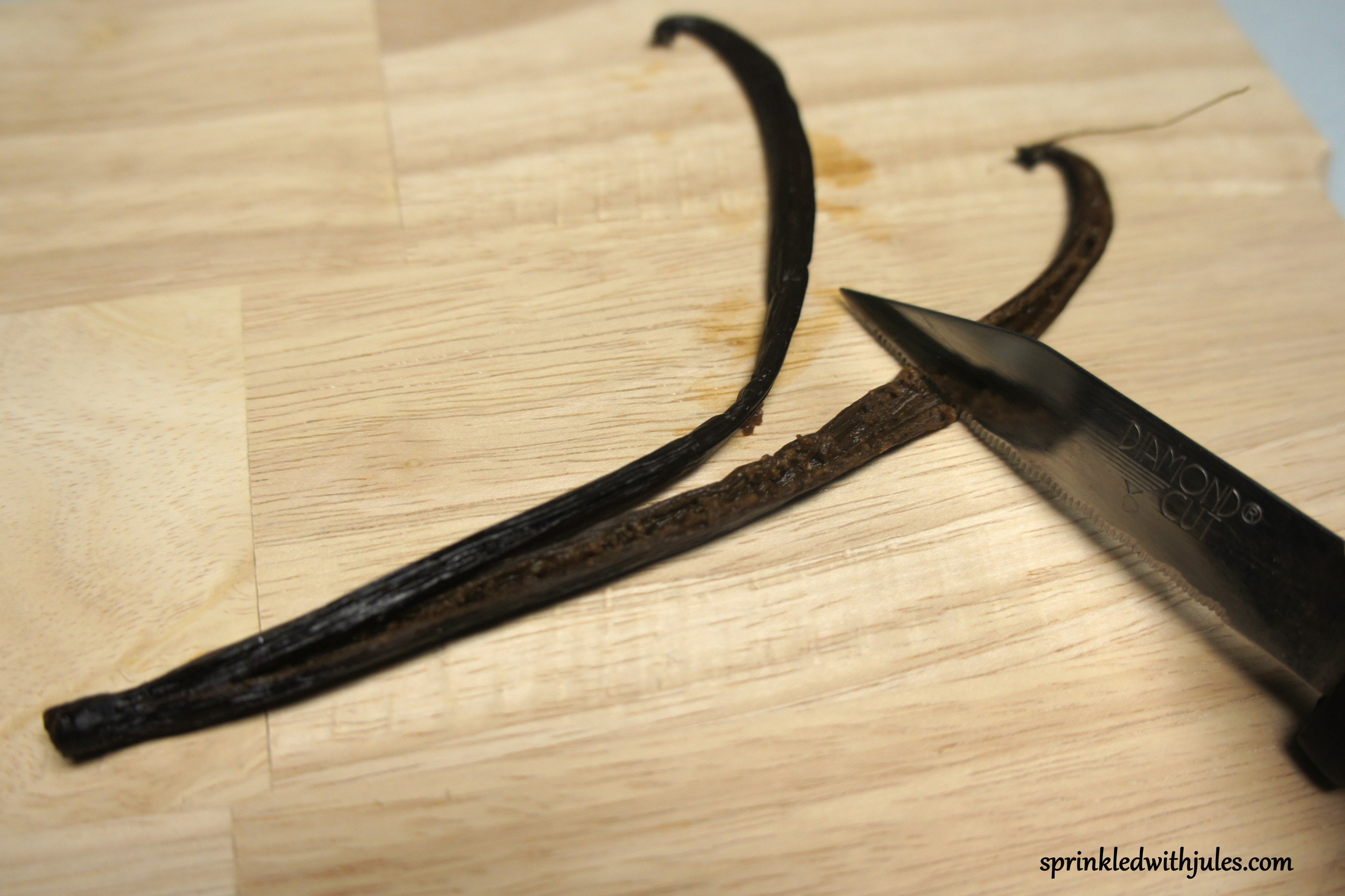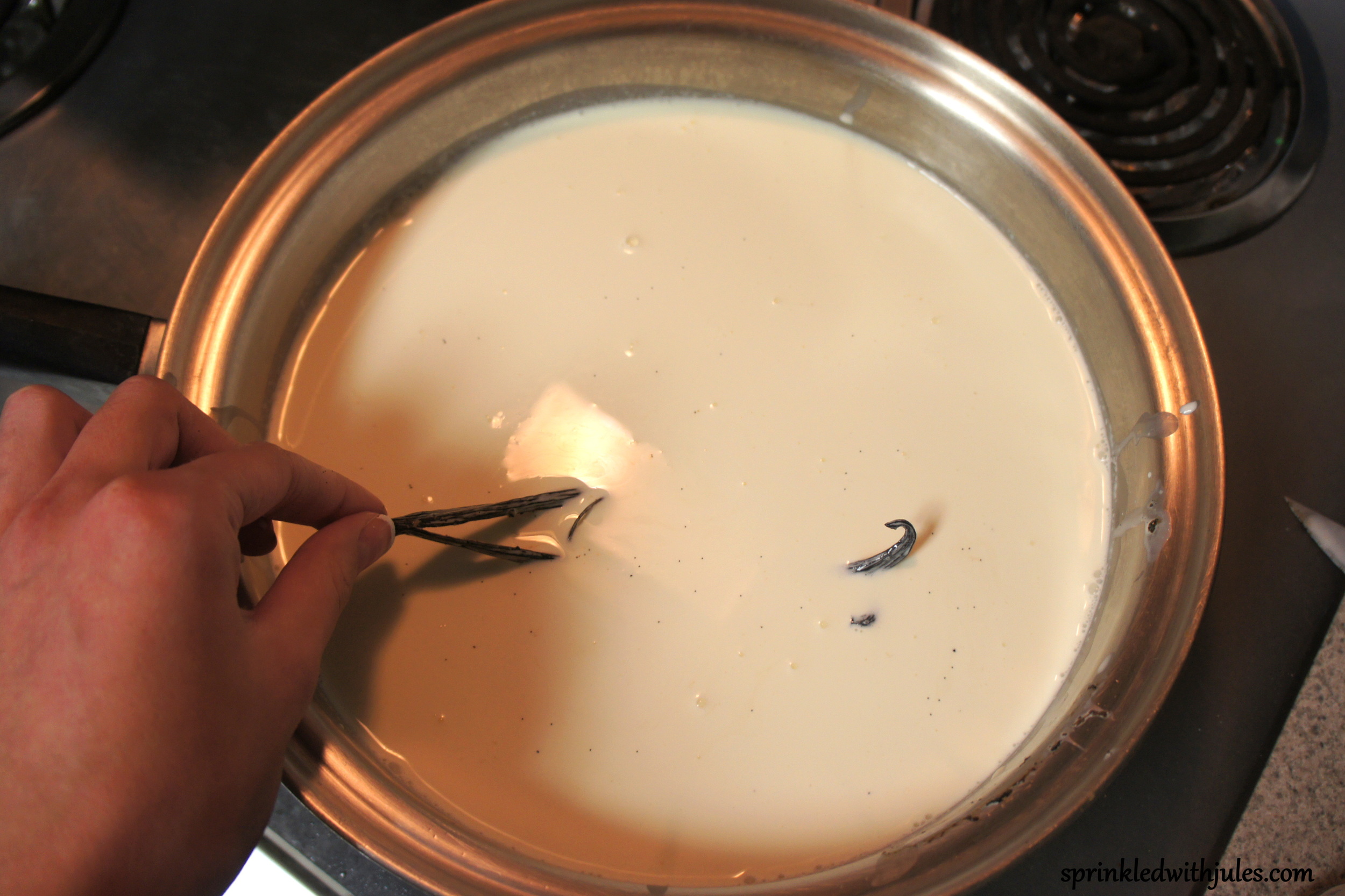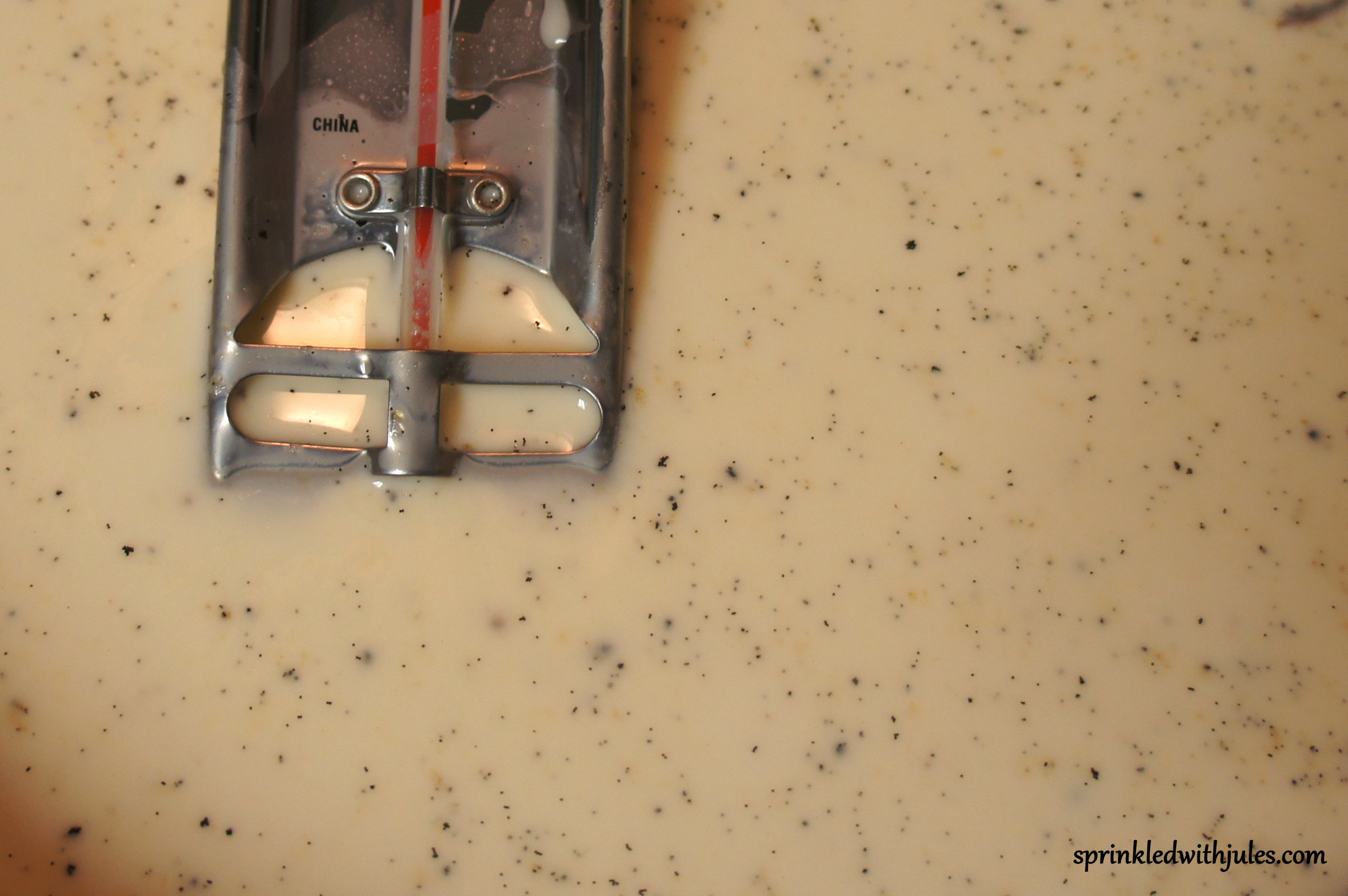 Original recipe is from Food Network. I used a different kind of preserves.
Vanilla Bean Ice Cream Recipe:
2 cups half-and-half
1 cup whipping cream
1 cup, minus 2 Tb. sugar
2 Tb. apricot preserves
1 vanilla bean, split and scraped
Directions:
In a large saucepan over medium heat, combine all ingredients, including the bean and pulp (after you have scraped the pulp out into the mixture, put the bean in too).
Stirring occasionally, bring the mixture to 170 degrees, then remove from heat and store in an airtight container in the refrigerator overnight or for at least 8 hours.
Freeze in your ice cream maker according to its instructions. Once it reaches a soft-serve consistency it is done. To make it more solid, place in the freezer in a freezer safe container for at least 2 hours. Enjoy!